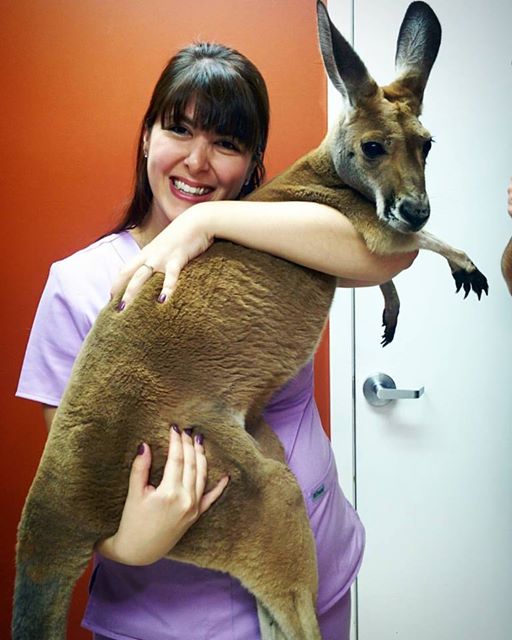 Dr. veronica Pardini, dvm, certaqtvet
Dr. Veronica Pardini is an avian and exotic animal only veterinarian!
She always wanted to work exclusively with exotic animals, so during vet school she did multiple externships in zoos and aquariums.
Right after graduation in 2012, she started her career as a small animal emergency veterinarian, which gave her an outstanding knowledge base that later on would be used to offer gold standard veterinary care to her exotic patients.
In 2017 she moved to South Florida to follow her passion and be a veterinarian at an avian exotic animal only hospital, which she stayed until November of 2022.
During that time she also had the amazing opportunity to be featured on many seasons of a NatGeo Wild show, which can also be seen at Disney +.
Dr. P loves all animals, but aquatic species have a special place in her heart, for that reason in 2022 she became Certified in Aquatic Medicine by WAVMA (World Aquatic Veterinary Medical Association). Her next career goal is to become board certified by the ACZM.
Dr. P loves to spread awareness about avian and exotic animal veterinary medicine, so she is always lecturing to vet students and writing papers and book chapters!
Last but not least Dr. P is the High Alert Institute consulting aquatic veterinarian, and she also serves as the veterinary healthcare representative to the Space Healthcare Policy Working Group where she assists in the development of animal healthcare and animal welfare principles and standards for future space habitats.
In the end of 2022 she welcomed her first child, Noah, and with that came the realization that it was time for her to build her own practice, and offer the best possible care to her patients – the way she always dreamt of!
So she decided to take a leap of faith, and here we are today!
Dr. Pardini is very excited to welcome you to the Wildside!

Gracie Gudakunst, Veterinary Technician
Meet Gracie Gudakunst, one of our dedicated veterinary nurses!
Originally from Van Wert, OH she moved to Florida to gain more experience with exotic animals.
Gracie has a special love for rabbits – she even has her own lop rabbit friend named Mr. Ollie Carrots.
Gracie finds joy in the distinct personalities of each rabbit and considers interacting with them an exciting experience.
When she's not working, she enjoys spending her time at the beach immersed in a good book.
What Gracie loves most about working at Wildside Veterinary Health Center is the opportunity to care for a wide variety of beloved exotic pets. She values the relationships she builds with their dedicated owners and finds it rewarding to work alongside individuals who share her love for animals.